According to the National Safety Council, falls are the most common source of injury for older people. And today we have many people over age 60 at work.
The fact is that people of any age can fall. It is one of the most common workplace injuries. The Council says people think that steps and stairways cause the most falls. However, that's not the case. People are more careful on stairs because they expect to fall there. Most falls occur on flat surfaces when a person trips over something like an uneven walking surface, electrical cord, etc., or slips on a wet spot on the floor.
While we may not be able to help you with things such as electrical cords or wet floor surfaces, we can eliminate the hazard of an uneven walking surface.
Look outside your building. Do you have uneven walking surfaces like the one pictured below? Situations such as these occur for a couple of reasons:
The base simply was not compacted properly before the concrete was poured. Over time the sub-base simply fails under the weight of the new slab and therefore settles.

Water erosion is present in the base

There are rodents undermining the base of the concrete.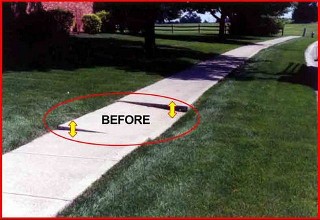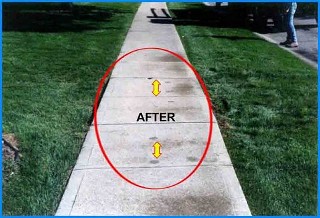 Whatever is the cause of the sunken slab of concrete, one thing remains clear, this hazardous situation needs to be eliminated immediately before someone trips and falls, causing injury to themselves (which by the way, can result in a potential lawsuit or Workman's Compensation claim).
"Slab-jacking" is the cost-effective solution. There's absolutely no need to replace the entire concrete slab. A grout and cement mix is pumped beneath the concrete slab through a series of small holes that are drilled into the slab (see picture below).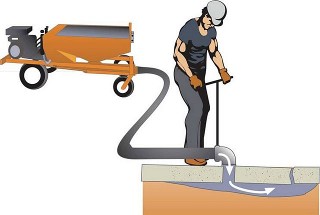 The pressurized mixture fills the void underneath the slab that caused it to sink. The mixture then compresses and raises the slab to its proper height. After the slab is lifted, the holes are filled and patched with new cement. This simple process usually takes only a few hours to complete so that you can have immediate use of the concrete right away. More importantly, slab-jacking costs up to 86% less than the cost of replacing the entire concrete slab!
If you have uneven walking surfaces caused by sunken slabs of concrete, call Bright for a FREE Preliminary Exterior Grounds Inspection Report